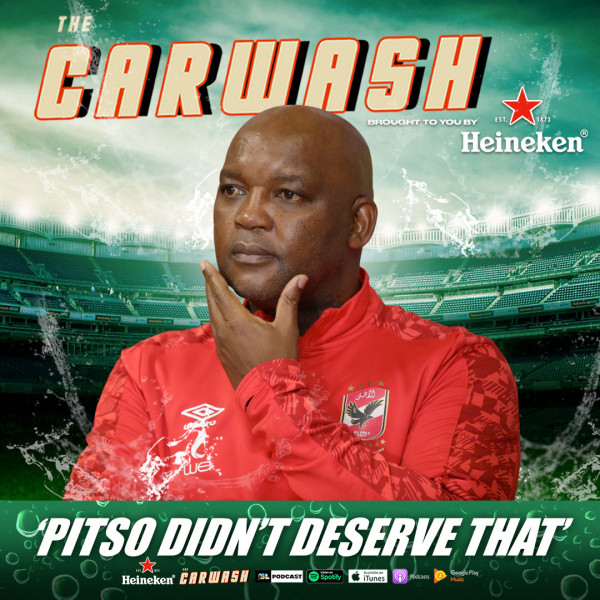 'Pitso Didn't Deserve That'
In light of recent events revolving around Mamelodi Sundowns fans, the Carwash crew reacts to the disappointing scenes that occurred in Pretoria, where an angry 'mob' of Sundowns fans were verbally and visually abusing coach Pitso in the Al Ahly Team bus. "It is a total embarrassment for football," Roberts said when discussing this huge matter.

Speaking on the SL Podcast's "The Carwash," Teko Modise and Sean Roberts express their feelings of disgust towards the incident involving an angry mob of Mamelodi Sundowns fans and how they treat former coach Pitso Mosimane. "How can this behaviour be condoned?" expresses Teko, shaking his head to this matter. The Carwash crew also react to a recent interview with Molefi Ntseki and how the former Bafana Bafana coach feels he was mistreated when being told he would be the assistant

In the latest episode of the SL Podcast's "The Carwash" with former Bafana Bafana star Teko Modise and former Ajax Cape Town goalie Sean Roberts, the guys discuss the latest of South African football, including the PSL Awards Nominations as the list has been revealed which features Mamelodi Sundowns in just about every applicable category. "They are going to dominate the next 5 years of the PSL" says Sean Roberts as he talks about Downs winning a 4th PSL title in 5 years. The crew also predicts the UEFA Champions League Final, with Manchester City being crowned heavy favourites against an inconsistent Chelsea.