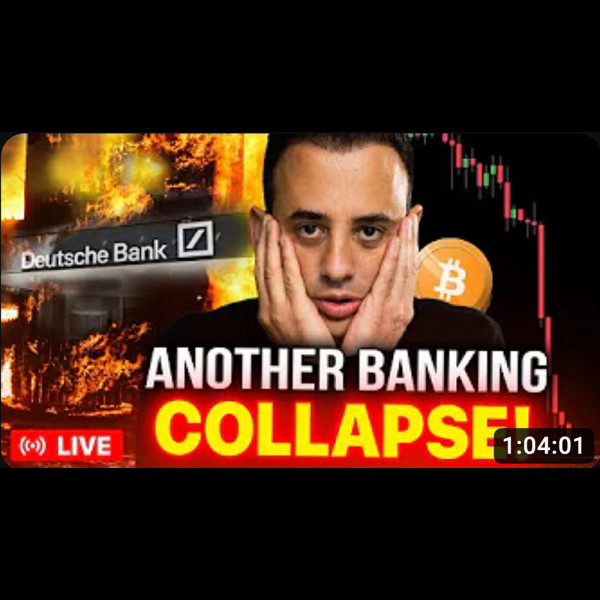 ANOTHER MAJOR BANK COLLAPSING! (BITCOIN HOLDERS WATCH NOW!)
Another major bank is on the verge of a collapse as the stock price for Deutsche Bank is in free fall! This is why we think Bitcoin and Altcoins could get another mega rally as fear spreads and investors flock to a safe fly to hedge their cash! Join our Friday Banter panel, where top crypto experts discuss the latest news and events in the crypto market! Don't miss this banter!!
⚠️ 𝗕𝗘𝗪𝗔𝗥𝗘 𝗢𝗙 𝗦𝗖𝗔𝗠𝗠𝗘𝗥𝗦 𝗜𝗡 𝗢𝗨𝗥 𝗖𝗢𝗠𝗠𝗘𝗡𝗧𝗦 𝗔𝗡𝗗 𝗖𝗢𝗠𝗠𝗨𝗡𝗜𝗧𝗬 𝗖𝗛𝗔𝗡𝗡𝗘𝗟𝗦
- - - -
𝗦𝗽𝗲𝗰𝗶𝗮𝗹 𝘁𝗵𝗮𝗻𝗸𝘀 𝘁𝗼:
🎵 DJ Asher Swissa
- Track:
https://bit.ly/336wtix
- Channel:
https://bit.ly/31soP1j
🎵 Marc Rebillet
- Track:
https://bit.ly/3pXQW21
- Channel:
https://bit.ly/332zhx9
- - - -
𝗗𝗶𝘀𝗰𝗹𝗮𝗶𝗺𝗲𝗿:
Crypto Banter is a social podcast for entertainment purposes only!
All opinions expressed by the hosts, guests and callers should not be construed as financial advice! Views expressed by guests and hosts do not reflect the views of the station. Listeners are encouraged to do their own research.
#Bitcoin #Crypto #Altcoins
𝗧𝗶𝗺𝗲𝘀𝘁𝗮𝗺𝗽𝘀:
00:00 Crypto Market News Update & Intro
05:35 Guests are Joining the Banter
08:30 Interest Rate Expectations - Ivan On Tech
12:00 Silicon Valley Bank Collapse & Stablecoins
14:00 EllioTrades - Money Printing & BTC Strenght
17:05 Ishan B - Global Liquidity Entering the Markets
21:48 Has Altseason Started? Trading ETH & Altcoins
23:32 Operation Choke Point & BTC vs ETH
27:05 Balaji Srinivasan - $1 Million Bitcoin Thesis
33:45 Is Ethereum ETH a Security? SEC Attack on Crypto
42:45 Arbitrum Airdrop & ARB Token Launch - OP vs ARB
49:37 Crypto Airdrops - Where to Invest $10k Now
52:03 Immutable X - Tokenomics, Utility & Ecosystem
56:30 Ivan On Tech on HEX & Decentralized Layer 2s
01:01:55 Crypto Market Update & Options Trading Course
Listen To More Podcast With Ran;