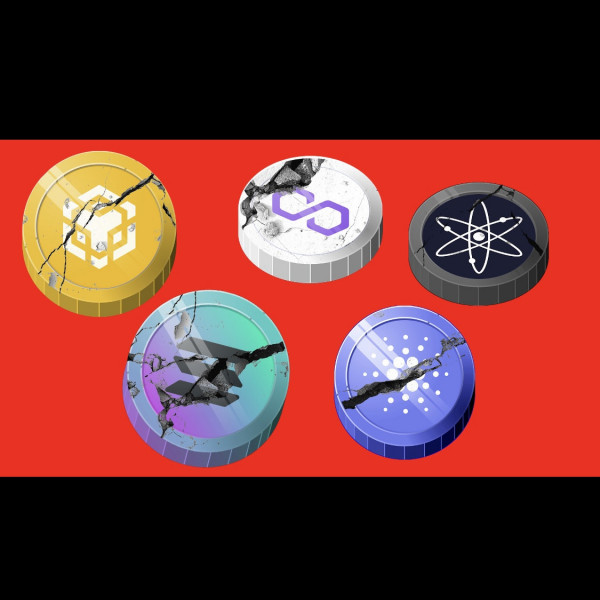 These Altcoins Could Get DESTROYED! (How To Avoid It)
The SEC is attacking Binance and Coinbase and declares a variety of Altcoins to be a security! If you are a holder of any of these Altcoins, then tune in to Crypto Banter today and find out why your portfolio could be at risk of getting obliterated! Don't miss this show!!
⚠️ 𝗕𝗘𝗪𝗔𝗥𝗘 𝗢𝗙 𝗦𝗖𝗔𝗠𝗠𝗘𝗥𝗦 𝗜𝗡 𝗢𝗨𝗥 𝗖𝗢𝗠𝗠𝗘𝗡𝗧𝗦 𝗔𝗡𝗗 𝗖𝗢𝗠𝗠𝗨𝗡𝗜𝗧𝗬 𝗖𝗛𝗔𝗡𝗡𝗘𝗟𝗦
- - -
𝗦𝗽𝗲𝗰𝗶𝗮𝗹 𝘁𝗵𝗮𝗻𝗸𝘀 𝘁𝗼:
🎵 DJ Asher Swissa
- Track:
https://bit.ly/336wtix
- Channel:
https://bit.ly/31soP1j
🎵 Marc Rebillet
- Track:
https://bit.ly/3pXQW21
- Channel:
https://bit.ly/332zhx9
- - -
𝗗𝗶𝘀𝗰𝗹𝗮𝗶𝗺𝗲𝗿:
Crypto Banter is a social podcast for entertainment purposes only!
All opinions expressed by the hosts, guests and callers should not be construed as financial advice! Views expressed by guests and hosts do not reflect the views of the station. Listeners are encouraged to do their own research.
#Bitcoin #Crypto #Altcoins
𝗧𝗶𝗺𝗲𝘀𝘁𝗮𝗺𝗽𝘀:
00:00 Kevin O'Leary - SEC vs Binance
02:30 Are You Holding These Altcoins?
05:06 Bitcoin Price Reacting to SEC Lawsuits
06:20 Gary Gensler - Binance & Coinbase FUD
08:30 Crypto Market & Bitcoin Bouncing Back
11:34 Coinbase SEC Wells Notice & Allegations
15:10 Coinbase Fight Against SEC & 10 US States
17:10 Why Buying Coinbase Shares Now
21:30 Brian Armstrong on CNBC Squawk Box
29:06 SEC Seeks Binance Asset Freeze
32:29 Altcoins Named Unregistered Securities
36:00 Decentralized Exchanges Compared
38:00 Crypto News Update Today
Listen to more Podcast with RAN.