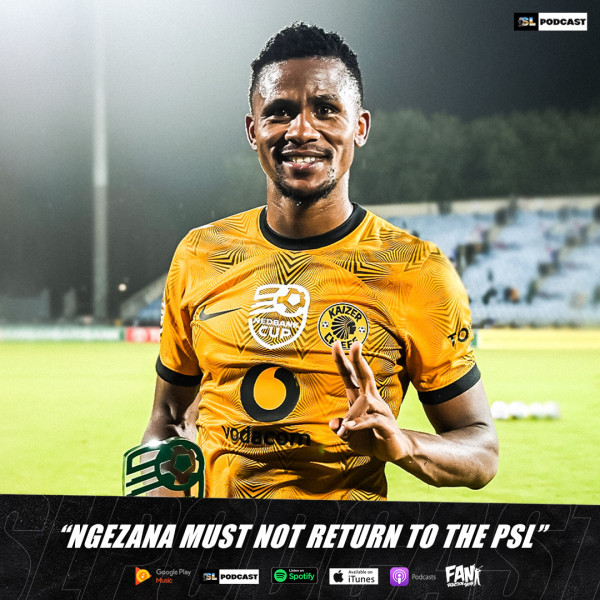 "Ngezana Must Not Return To The PSL"
Siyabonga Ngezana has joined an elite set of players who have made the move out of the PSL, and into Europe. The Former Kaizer Chiefs defender has put pen to paper and signed for Romanian Ligue 1 club, Fotbol Club FCSB. The versatile defender spent seven seasons with the Glamour Boys, where he grew into a formidable defender. Many Chiefs fans have even praised the 25-year-old, claiming he was one of the best defenders during the 2022/23 Dstv Premiership season. The beauty of this move is that there is proof that development players have what it takes to make the move to Europe, so long as the player is hard-working, determined, and ready to make the necessary sacrifices.

Ngezane was able to control the defence, not only playing in the full-back position, but when duty called, he slotted perfectly into a center-back role, which make him an indispensable player. Being able to shift mindsets into these positions, is no easy task, which is why a European club came calling.

Former Kaizer Chiefs striker, Samir Nurkovic has been in a legal battle with Pal club, Royal AM over a contractual dispute, which saw the club owned by Shawn Mkhize terminate the Serbians contract early, to the tumultuous groans of the PSL. Nurkovic signed a two-year deal, not long after being released by the Glamour Boys, but he never featured in any competitive matches. Nurkovic's contract was terminated 2 months into this binding agreement, without any form of compensation. The club argued he was released due to a lengthy period of 'sick leave.' The Serb took this discrepancy forward to the PSL, where, in his favour, it was announced that Royal Am has to payout the contract, a fee which comes close to R12 million, or 'Mkhize's men' will face a ban imposed by FIFA.

On the latest episode of the Fan Reaction Show, Mzansi praises former Kaizer Chiefs defender Siyabonga Ngezane for making a move to Europe, where he has signed for Romanian Ligue 1 club, Fotbol Club FCSB. Mzansi reacts to the legal battle between Samir Nurkovic and PSL club Royal AM after his contract was terminated prematurely.