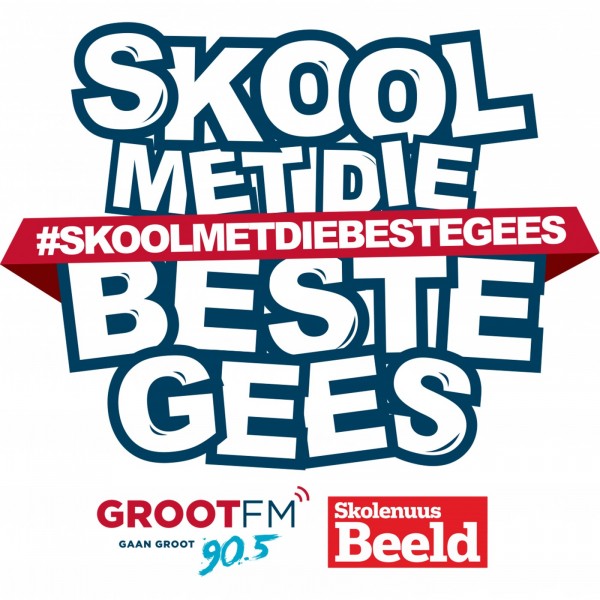 #SKOOLMETDIEBESTEGEES 2019 - Laerskool Monumentpark
Dis weer tyd vir #SKOOLMETDIEBESTEGEES 2019!
Jou skool se kans om vir die hele Suid-Afrika te wys hoe lyk ware geesdrif, vurigheid, entoesiasme, lewenslus en positiwiteit, passie, ywer en energie, betrokkenheid, eenheid en samehorigheid of hoe ookal JY die woordjie "gees" verstaan en wil wys!
Ons wil die onder-die-oppervlak-mooi, wat nie noodwendig die spogblaaie of podiums haal nie, kom soek en ontdek in die hoop om sommer self aan te steek met 'n gees wat ons kan terugvat na ons eie kontrei en kantoor, straat, stad en land!

Ons span van GROOTfm 90.5 en Skole Beeld saai regstreeks vanaf Laerskool Monumentpark uit met 'n bussie, kamera en verhoog en so weergalm en verwoord, fotografeer en deel ons elke stukkie van die aansteeklike atmosfeer wat ons daar by hulle beleef met almal wat ons kan oor die radio, in die koerant en op sosiale media!

En ons borge hierdie jaar is GROOT(er) as GROOT! Ons verwelkom Bounce,
Cosave Powerbuild & Wholesalers, Dr Tooth Little, MitMakMotors, Oliela Shake, Signarama Pretoria Noord, School Ride en natuurlik Skole Beeld!