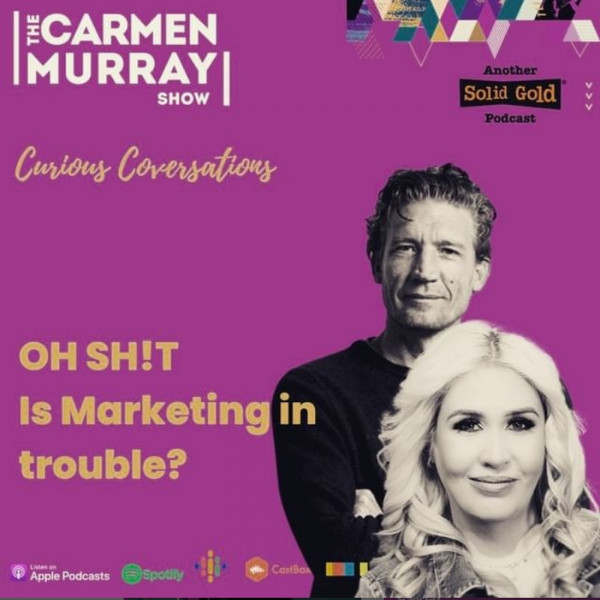 #096 OH Sh!t... Is Marketing in trouble? | Matthew Barnes
Is marketing and creativity colliding with society? The truth...

Believe it or not, I tried for over 3 years to bring you this episode! Matthew Barnes is one of Africa's most talented creative directors. We met at a pitch - blah blah, fast forward, we became friends because of our passion for our industry (Marketing, Advertising, and Creativity).

As a passionate marketer and netnographer, I started doing research on the state of marketing and creativity, and something did not sit well with me. Something is wrong, and what is going on with our industry? This is not an episode for shallow marketers. This is a real conversation about what you need to know about what is REALLY happening in Marketing, Advertising, and Creativity.

About Carmen Murray :
Carmen Murray is an award-winning digital analyst, content specialist, and multiple podcast host. Carmen Murray Communication is a data-driven, content marketing business conceptualising Freakishly Effective Continent. A little offbeat, but always on point. They offer tried and tested analytical data intelligence to inform their content marketing strategy. Whether it's written word, with perfectly crafted copy, Video content that inspires action, Voice content, like podcasts and interviews, that reach the ears and touch the soul, or Graphics, that tell a story with every pixel. Carmen Murray Communications is skilled to execute on any platform.

About Matt:
Matt started his advertising career as a copywriter at Ogilvy Johannesburg. He has spent 20+ years conceptualising, strategising, leading, integrating, presenting, selling, and upselling every form of advertising imaginable for brands big and small, listed and bankrupt, inspirational and abominable – with retrenchment, entrepreneurship, and freelance in-between. He's obsessed with the return on creativity. You can find him on LinkedIn (where everyone talks about themselves in the third person).