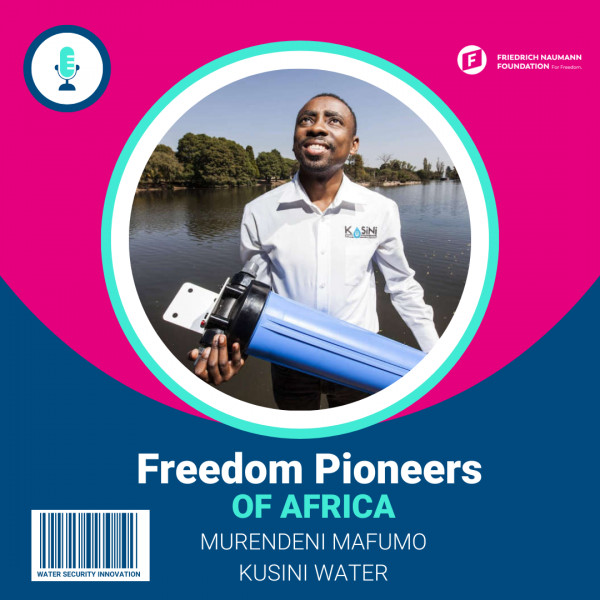 #13 Water Security Innovation - Kusini Water
This social entrepreneur was born in Limpopo, South Africa and holds a Bachelor of Technology degree from Cape Peninsula University of Technology, with a major in Chemistry. He also has a certificate in Water Treatment Technology. His brainchild, Kusini Water provides safe drinking water to people in rural areas using a solar-powered water purification system. Murendeni is a firm believer in the importance of providing sustainable water and safe drinking water, particularly to people in rural areas who cannot necessarily afford to buy bottled water. On a global scale, Murendeni is aware that over 1 billion people lack access to safe drinking water and that infants in the developing world die within the first two to three years due to a lack of water. Kusini Water exists to solve these problems sustainably and makes use of locally sourced macadamia nut shells and an off-grid power system to provide water to neighbouring communities.

In the twelfth and last episode of FPOA, Murendeni Mafumo presents his concept, which was broadcast across eighteen community radio stations in Malawi, South Africa, Zimbabwe, Tanzania, Namibia and Zambia. Listers give their thoughts on the projects presented by upcoming innovators and whether the initiative would work in their environments.
Murendeni Mafumo also discusses his initiative with our resident Global Connector, Bianca Praetorius. Bianca is a startup pitch coach who offers insights into all things technology, digitisation and innovation.

The featured radio stations in order of appearance: Ntepe Manama Community Radio, Umunthu FM and BCR FM.
The featured languages in order of appearance: Zimbabwean Ndebele, Kiswahili and Siswati.