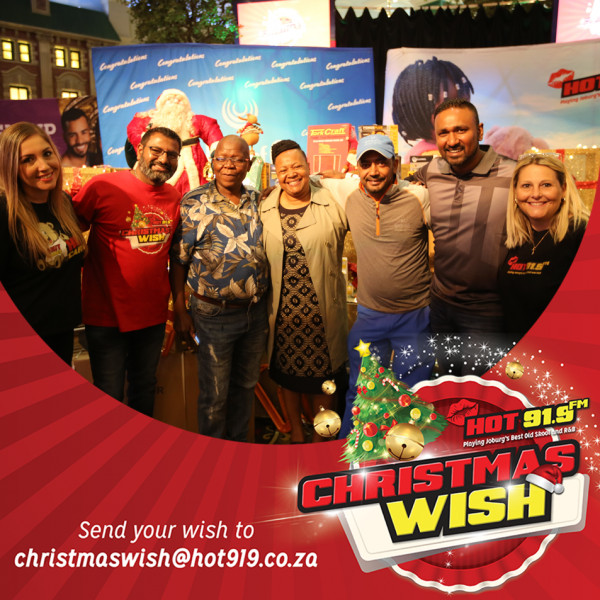 SANTA'S WORKSHOP - GIVING MOTHER CLAUS WHAT SHE NEEDS TO KEEP GIVING
Johan Wildenboer wrote into the Hot 91.9 Christmas Wish to let us know that Mother Clause lives in Shoshanguve.
His close friend, Hester Oosthuizen is a school teacher at Medicos Special School in Soshanguve for mentally disabled children with special needs. She is the school's woodwork and music teacher and an incredibly dedicated, passionate and talented teacher. Her woodwork workshop is not just a place of learning, but something she uses to give back to the community. Together with her students the create gifts for children at the school, not any old gift, but they fid out exactly what is needed for each child and create that, Often Hester does this at her own expense. Her whole workshop at the school looks like a picture from Santa's workshop towards the end of the year. Nothing short of a miracle, indeed a Christmas wonder.
These children are disadvantaged with special needs and most of them are from very poor backgrounds. Her aim is to make a difference in the lives of each and every child in her school. Not only through her teaching and skills transfer, but because she cares so much and loves the children unconditionally.
Her workshop at the school is not nearly properly equipped. The machines, tools and equipment are old and run down. The school has very little funds to repair, fix or buy anything new. Her workshop is a learning and training centre for these children with special needs. She teaches them how to do something practical so that they can find a job when they leave school or so they have a skill set to be self-sufficient.
Hot Cares together with gold Reef City have purchased workshop items to the value of R100,000.00.
Hester was unfortunately away and we invited Principal Constance and HOD Jappie of Medicos Special School to the Gold Reef City Hot 91.9 FM studio to receive the Wish.